This ad looked great, but lacked substance. A common mistake--especially with ads selling upscale furniture--is to put your name at the top and keep it simple and elegant. It's also too small given the relatively small amount of people in the market for this sort of thing.
Archant just forwarded details on another sale that's come out of their Response Oriented Selling ad sales program, which I conducted for some of them just outside of London a few weeks ago.
This is a classic example of an ad rep who didn't let the amount of money an advertiser was spending elsewhere, or the size they were running, influence what size she was going to recommend.
After completing our course, ad rep Linda Ikwue's first target account was a business running a 1/4 page in a competitive magazine, spending £100 per month (about $130) and not running at all with her own publication.
Ignoring the prospect's claim of too high a rate and limited budget due to the recession, Linda quickly shifted the topic over to response and explained that there are two things that affect response--the medium and the message.
Linda's plan was to use our techniques to dramatically enhance that response equation by proving a new ad will be more effective than what they were running elsewhere. In effect, using her new personal strategic advertising skills to leverage the sale.
Of course, a big, beautiful, effective ad wouldn't do much good if the prospect had other ideas, so first Linda got to work fixing potential incorrect theories the prospect had about how response works, including getting buy-in on the principles that would later justify size and frequency as explained in our course.
Once the prospect saw the power of the approach and that Linda was qualified to drive response (instead of simply quoting rates and forwarding instructions to the designers), the client was willing to spend some time with her answering questions about his business.
He even admitted he wasn't getting a response in the other publication.
"Linda returned to the office, sketched out a new strategy, got some text together, and spoke to Joe Ringer on the design team to come up with some ideas. One of the main strategies was for the ad to get into more detail about how they actually build their pieces better."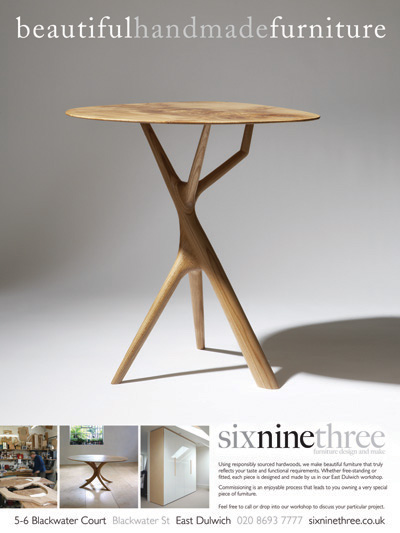 The trick in an upscale direct response ad is to keep it elegant while providing enough substance to prove what your target customers care about. The trick here is to not just come up with a great new strategy, but to change the prospective advertiser's underlying theories about size, frequency, and content so they actually spend the money they need to get a response.
As for their choice of a full-page ad size, the managing director explained to me, "for his business, they make all their furniture by hand and customize them to suit. The average sale is about £3,000 ($4,800) and very few people are in the market at any given point in time for his products. The ad needed to be big."
Linda then took the ad to the client and after reiterating how her publication reached plenty of the right people in the right places, she began the process of getting buy-in for the new full-page ad.
Linda reviewed the key issues about the prospect's business, competition, and target customers and then walked the owner through the response techniques again, drawing out the logical process that was used to arrange the information.
Linda then presented the ad, positioning it as the logical result of everything the account told her.
According to the managing director, "As for ad size, after proving the ad would work, Linda drew a diagram of the funnel [something we teach in the course] so that she could show him how a full page was critical to making a profit, even though they were used to running just a 1/4 page in the other publication.
"He agreed to a full page advertisement in October (they're a monthly magazine) and approved the attached ad today, so he is now spending £800 ($1,270).
"She really enjoyed the whole sales process and thinks the client did, too!!"
One of the reasons I really like this case study is that Linda didn't limit herself to what she thought the business would "go for", something that I see too many ad reps do and something we discuss a lot in our course (and here).
Instead, Linda created an ad with the right content and size to get the advertiser a response, which in this case meant a larger ad to attract the relatively few people out there about to buy this kind of product. Also, it contained enough substance that these prospects would believe it, even if they were planning on going elsewhere.