The first ad sales presentation to come out of our
Response Oriented Selling
newspaper ad sales course for the Press Enterprise has just sold and will run multiple times. The
PAGE Cooperative
member-newspaper in
Bloomsburg
, Pennsylvania, shows us another example of how ad reps are making significant gains in a recession from advertisers who had no plans on spending any more money.
This time, it's a hearing aid center that was so set their ways, ad rep Michelle Boone was skeptical about them going for anything, let alone something larger and more frequent. Still, Michelle remained open-minded enough to put the effort into learning our new techniques and focused on solving the target account's problem instead of trying to adapt her recommendation to what she believed the audiologist would "go for."
Resisting the temptation of just throwing an ad back to creative (a big no-no with our approach), Michelle went out and did her homework by first meeting with the audiologist and learning more about her business and target customers, particularly asking about why people in need of a hearing aid (and the adult children who may be helping them) choose one place rather than another.
The answer wasn't surprising. They just wanted a good, state-of-the art hearing aid, one that worked and fit right. Which means the right place would have to have a good selection and an actual audiologist on staff that would be able to properly diagnose the problem, work out a custom solution, and make sure the new hearing aid fit perfectly. Of course, troubleshooting was important to a prospective customer as well, and also fair prices, insurance acceptance, and liberal warranty/guarantees.
Once Michelle returned to the office, in a Web-based target account session, part of our course, we sketched out a quick strategy to get anyone interested in hearing aids seeing the ad, reading on (with a benefit headline that summarized what their target customers care about), and got into enough detail about the quality and selection to make a case this is
the
place to get hearing aids in the area. We then wrote out enough about how the audiologist works with the customer to convince them she really does do a better job than others. Finally, we explained the warranty/guarantee.
Yes, it actually contained some real substance in the ad, something many ad reps dismiss as "too much copy that nobody will ever read." This may be true for a shopper publication, but keep in mind your newspaper readers are just that--readers--and this is going to be the most important item in the newspaper that day. Besides, if we don't sell those about to buy hearing aids this week, they may be gone next. We've got to give them everything they need to decide to come to this one rather than the place they may be planning on going already.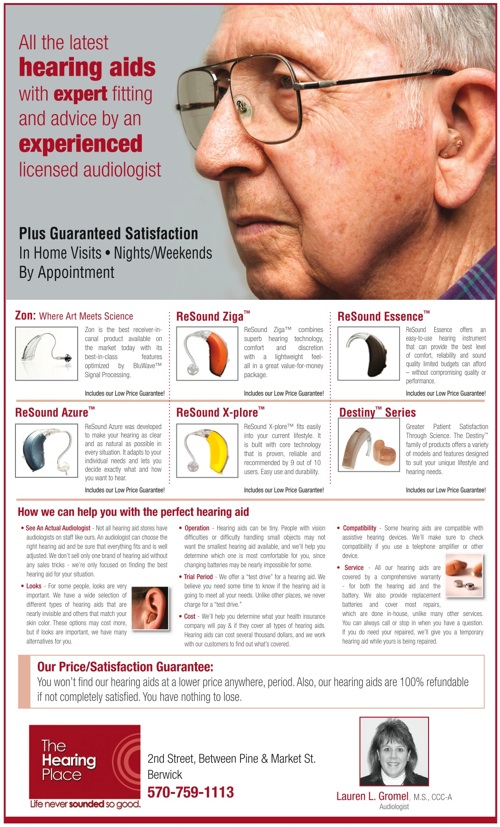 We directed our

DesignYourAd

overnight ad production team to the manufacturer's Web site to pull the items and descriptions and pulled the "how we can help you with the perfect hearing aid" copy from a "how to choose the right hearing aid center" article at a hearing aid association's Web site (fine for a spec ad since they're replacing it anyway).

Anyway, the ad was sent through to our
overnight ad production service
and the next morning we received the ad on the right back. Michelle gave a flawless role-play of the final presentation, which she memorized perfectly and then hit the road.
According to Michelle, after clearing out all the incorrect theories on advertising, including size, frequency, and content, and drawing a new approach out of the prospective advertiser, she presented the ad. We're not surprised, according to Michelle, that the audiologist "absolutely loved the ad," since we first made sure the new approach was based on the way she saw the world.
As is typical, Michelle was surprised to see just how easy it was to sell the ad, even though it was significantly larger than anything the audiologist had ever run before. The sale was for multiple runs of a full color, $863.28 per ad.
The wonderful thing is that now that Michelle has learned how to prove to an advertiser the next time they run they'll get a dramatic response, she can repeat the process as quickly as she can get spec ads produced, which with our production company is overnight. Michelle is already working the same process with a lawn-mower dealer, clearly another advertiser who needs to run bigger and can run bigger, even if he doesn't yet know it.