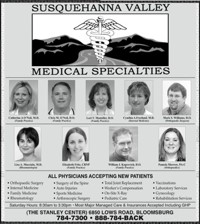 Even doctors can suffer in a recession when a patient may fear losing their job if they're out too long recuperating from surgery. This just means they need to get more people seeing, reading, and responding to their ad.

Here's another inspiring sale made by one of our clients, the PAGE member
Bloomsburg
Press Enterprise, whose ad rep turned a small ad into lots of much larger ones using our
techniques
.
As it turns out, during a recession, people who have a job like to keep it that way, hesitating to have elective surgery performed for fear of not having a job to come back to after they recuperate.
So, it seems, even the medical profession is suffering in this recession, so you may find doctors are more open to hearing how you could increase their business.
Again, this surgery center was running a typical medical ad with pictures of the doctors and a laundry list of services they offer instead of telling customers what they need to know to make an informed decision.
After the ad rep went out and asked a few questions, he learned that in the
Bloomsburg
, PA area at least, it took forever to get many outpatient procedures performed.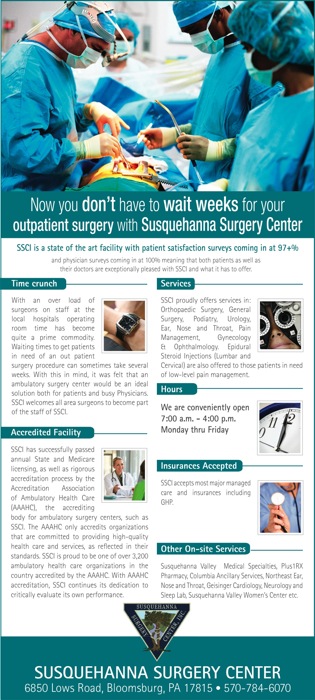 The new ad not only attracts the attention of someone who needs surgery and gets them to read on with what they care about, but also gets into some real substance about how they'll actually perform the surgery better. The ad rep's hard work paid off with a much larger ad and a major commitment.
All things being equal, that was what people cared about most, so that turned into the headline "Now you don't have to wait weeks for your outpatient surgery". This was followed up with a sub-headline explaining the other top reasons people choose one surgery center rather than another--a state-of-the-art facility, and both satisfied customers and doctors who use the facility.
Again, a rough strategy was created by the ad rep and sent through to our
designers
, who created the new ad at right. 
Using our
Response Oriented Selling
techniques, the ad rep first eliminated all the advertiser's incorrect theories on advertising, taught him a more effective system, got the advertiser to visualize the ad, and then presented it. 
"The client almost tore it from my hands, he was so excited about the strategy", the ad rep explained.
Better yet, the client agreed to run it a number of times and even suggested running it bigger than recommended--a 4 col x 16. 
Since one surgical procedure sold from the ad is typically enough to make the ad profitable, it's pretty easy to sell a larger size once the advertiser understands the dynamic behind the effective ad. It's the proving the ad will work up front that's the tricky part, and exactly what we teach.
So, I'd suggest checking out any doctors, hospitals, and surgery centers in your area and remember, they're probably hurting too, waiting for someone like you to come in and show them how to drive some major business to them.
If they're running with you or in a competing publication and just showing
headshots
and services they offer, you might have a significant opportunity there.